Ten years on – time for value investing?
It's now fully a decade since the global financial crisis erupted. Rightly or wrongly, despair has turned to confidence. By some measure, the stockmarket is experiencing the longest bull run in history, with many markets at or around their all time highs. So, job done – disaster averted, it would seem.
So how did we get here? The simple answer is that central banks have been printing money like mad and all that money has had to go somewhere. Rather than being invested in productive assets, it's been funnelled into financial assets – especially those seen as offering rapid growth. That's one reason why high profile technology stocks such as Amazon, Apple and Facebook have performed so well. As a consequence, growth stocks (those with high growth expectations and often high valuations to boot) have outperformed value stocks (lowly-priced stocks) over the past ten years – as the chart below shows.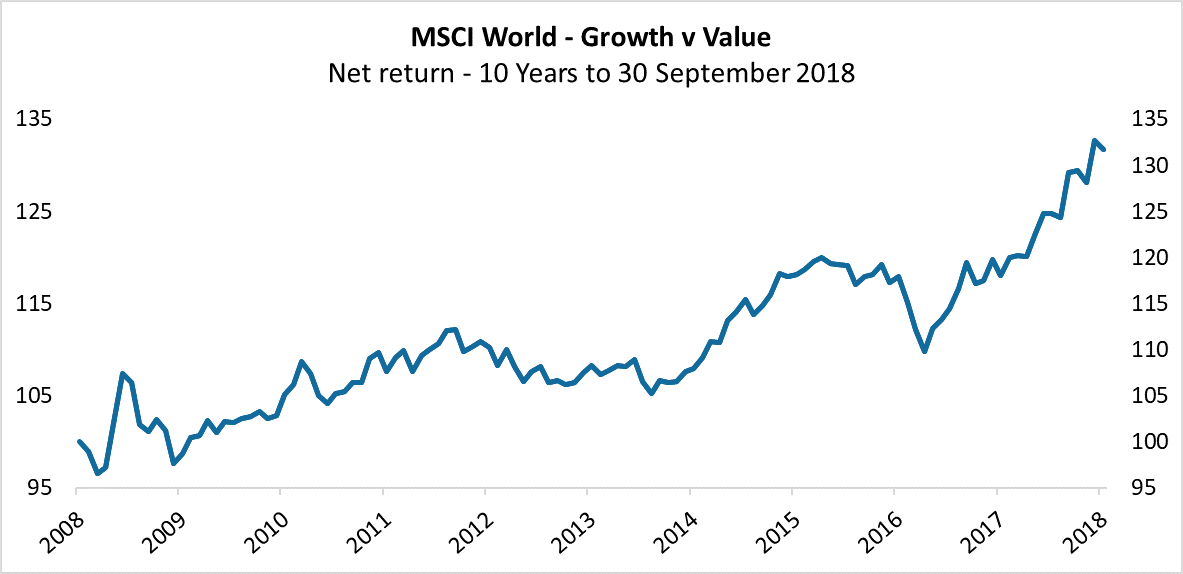 But there's a good reason for thinking that this state of affairs won't last indefinitely. Why? Well, historically, the value style of investment has generally outperformed growth over the long-term. There have been short-term breaks in the pattern, but it has always reasserted itself eventually. So growth's lead of the last decade looks distinctly unusual – and possibly fragile.
As contrarian investors, we believe that the most prudent approach is to steer clear of the highly valued growth stocks that have performed so well over the past decade. They're increasingly 'priced for perfection' so that any disappointments could result in their prospects being radically reappraised. And there could be clouds on the horizon for some of the big tech names in particular, whether through increased regulation, popular backlash or simply running out of room to grow.
To us, then, it makes much more sense to be positioned in stocks that have been overlooked during the market rally. Over the long-term, share prices should reflect the true value of a company. Taking a contrarian approach like this certainly requires patience. Standing apart from the crowd might not always be comfortable. But we believe that our portfolio of unfashionable and unloved shares will prove to be a sound investment when we look back in another ten years' time.
Please remember that past performance may not be repeated and is not a guide for future performance. The value of shares and the income from them can go down as well as up as a result of market and currency fluctuations. You may not get back the amount you invest.
Please note that SIT Savings Ltd is not authorised to provide advice to individual investors and nothing in this blog should be considered to be or relied upon as constituting investment advice. If you are unsure about the suitability of an investment, you should contact your financial advisor.